Welcome to B4 The Bell!
From MH and Butterfield:
$ at 84.55 Doc said " let's wait and see what happens at 84.50" so what happens at 84.50 If it does not bounce here, we are broke.
Dollah index quote
"We have breakdown, Captain."
"Aye, Aye. Dive, Dive ... into the vasty Deep!"
The Dollar's Long-Term Direction: Down
By EDUARDO PORTER and ELIZABETH BECKER

Published: November 4, 2004

The election drove the dollar all over - down when it looked like President Bush would lose, up briefly when Senator Kerry conceded defeat.

But ultimately, the dollar's fate never hinged on the outcome of the presidential election. Now that the dust has settled, the currency is back on its long-term path: downward. According to most economists, it is likely to stay there over the next four years.

"There is a certain inevitability to the decline,'' said Alan Blinder, an economist at Princeton University who served as vice chairman of the Federal Reserve and was an adviser to President Bill Clinton. "I think the Treasury understands this. It would be nice if they would say so."
http://www.nytimes.c...ss/04place.html
Deficits and Tax System Changes in Bush's Second-Term Economy
By EDMUND L. ANDREWS

Published: November 4, 2004

WASHINGTON, Nov. 3 - Even as President Bush was celebrating his election victory on Wednesday, his Treasury Department provided an ominous reminder about the economic challenges ahead.

After four years of rapidly rising budget deficits, the Treasury announced on Wednesday morning that the government will borrow $147 billion in the first three months of 2005 - a new quarterly record, but one that is likely to be eclipsed before that year is out.

Empowered by his own victory and stronger Republican majorities in Congress, Mr. Bush has pledged to push an economic agenda that could be more ambitious than the $1.9 trillion worth of tax cuts over 10 years that he signed in his first term.

The new economic agenda will focus on two big goals. One is expected to aim for a fundamental overhaul of the income tax, very likely in the direction of a system that lessens even further the taxation of investment income; the other to push for a partial privatization of Social Security that could eventually reduce costs but require borrowing more than $2 trillion over the next two decades.
http://www.nytimes.c...ess/04econ.html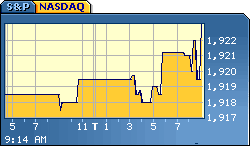 Live gold chart:
http://www.kitco.com...s/live/gold.gif
Good Trading!