Welcome to B4 The Bell!
Doc said:
Exactly as I said.

The American people have spoken.

Or have they?

We shall now reap the whirlwind.
WWII - Arthur 'Bomber' Harris (RAF): "The Nazis entered this war under the rather childish delusion that they were going to bomb everyone else, and nobody was going to bomb them. At Rotterdam, London, Warsaw, and half a dozen other places, they put their rather naive theory into operation. They sowed the wind, and now they are going to reap the whirlwind."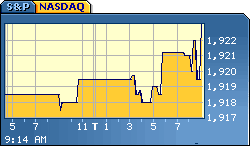 Mogauge gets one more jump before it can say goodbye to low interest rates:
U.S. mortgage applications climb last week-MBA
Wed Nov 3, 2004 07:00 AM ET
NEW YORK, Nov 3 (Reuters) - New applications for U.S. home loans rose last week, even as 30-year mortgage rates increased from the previous week, an industry group said on Wednesday.
The Mortgage Bankers Association said its seasonally adjusted market index, a measure of mortgage activity, rose by 8.2 percent to 761.7 for the week ended on Oct. 29 from the previous week's 703.9.

Thirty-year mortgage rates, excluding fees, averaged 5.65 percent, up 0.11 percentage point from the previous week, but 0.20 percentage point lower than a year ago, the Washington trade group said.

The MBA's seasonally adjusted index on new refinancing applications jumped by 3.1 percent to 2,303.9 for last week from the previous week's 2,233.8.

The association's purchase index, a gauge of new loan requests for home purchases, climbed by 12.6 percent last week to 496.5 from 440.9 in the prior week.
http://www.reuters.c...storyID=6700083
Good Trading!