Welcome to B4 The Bell!
Today marks the 75th anniversary of the 1929 stock market crash, and the passing of a lunar eclipse. Hopefullly it will also mark the end of a mean season, where bearish market strategies have been shot down.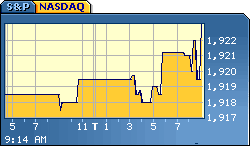 China Raises Interest Rates for First Time in 9 Years (Update2)
Oct. 28 (Bloomberg) -- China's central bank raised its benchmark interest rates for the first time in nine years, stepping up efforts to rein in investment that's stoked inflation and caused power shortages in the world's seventh-largest economy.

The one-year lending rate will increase by 0.27 percentage point to 5.58 percent, effective tomorrow, the Beijing-based People's Bank of China said in a statement on its Web site. The rate was last raised in July 1995. The ceiling on lending rates that banks can charge was also scrapped, the statement said.

``China's bid to curb inflation has been effective so far but investment is still growing too quickly,'' said Yiping Huang, Hong Kong-based chief China economist at Citigroup Global Markets Asia Ltd. ``There is a strong possibility the Chinese central bank will raise rates further in the near term.''
http://quote.bloombe...XZC4&refer=home
Good Trading!