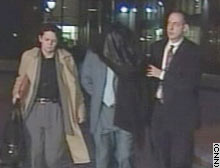 A currency trader is arrested after an FBI Wall Street investigation of bogus currency trades
From the Thursday, November 20 edition of the New York Daily News:
. . . Even so, I was especially pleased to see the FBI marching 47 Wall Street guys into vans Tuesday night. The agents brought them out with their hands cuffed or their heads lowered. Or we saw them trying to cover their faces like the thugs and Mafia dons of old used to do. As I watched, I could only cheer, "Rack 'em, Jack!" Or I could have shouted like James Brown, "I feel good!"

The reason was that I and many others have long called for crime in the suites being taken as seriously as crime in the streets. I have long wanted to see those who bilked people out of millions and millions - often becoming billionaires in the process - getting the same kind of time and treatment that lower-level street scum get . . .